The Chairman was joined by the former Speaker of the House, Herb Farley, a white-haired three hundred pound bear of a man with a triple chin and double stomach. The speaker held out his meaty paw to shake our hands. I didn't know the speaker personally; we'd met casually at a few Washington parties, but our paths didn't cross too often. I did know he wasn't to be trusted; his reputation as an opportunist preceded him. But, that could be said of most the Hill. After all, who wasn't looking out for their own ass in this town?
"Jack, I'm a fan of your work in the Senate," he boomed. The speaker's forehead was damp with perspiration around the edges of his hairline. He pulled a handkerchief from his pocket to wipe it.
"Thank you, Mr. Speaker," I was guarded, but always friendly.
"Call me Herb, please, Jack."
Henry asked, "Can I get you guys anything… coffee, something stronger?"
"Nothing for me," Bud answered a little too quickly.
I shook my head, "I'm all set. Had a cup this morning." The truth is, I never drank more than one cup in the morning and it was way too early for hard liquor.
The speaker engaged us in a few minutes of small talk before Bud, with his typical impatience, asked, "So fellas you didn't bring us down here for girl talk. What did you have in mind?"
I was running my hands along the old wood, pretending to admire the table, my ears perked for the response. I figured I'd let Bud do most of the talking. After all, he knew these guys better than I did; he'd spent the last forty years working for the party.
Henry started, "We know you're preparing for a run at the White House."
"We haven't announced," Bud was being coy.
They knew we'd been approaching donors for some time now, that we'd arranged for office space and already hired some staff. Despite our best efforts to keep our plans low-key, when we're all asking some of the same people for money – word gets around.
"I'll get right to the point. The thing is, Jack, we brought you here today to ask that you sit this one out." My heart sank. I looked over at Bud and saw a very surprised look on his face. Almost shock. I thought what the fuck?
The words hung in the air. I turned and looked behind me as if to say, who the hell are you guys talking to?
This fat piece of shit and his bug-eyed greaser sidekick can't be talking to me. Don't they know I'm gonna be the next president?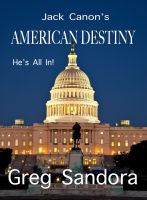 Buy Now @ Amazon & Smashwords
Genre – Political Thriller
Rating – PG
More details about the author & the book
Connect with Greg Sandora on Facebook & Twitter
Website http://www.gregsandora.com/