What books have influenced you in the past? The Course in Miracles, Seat of the Soul. I love books on spirituality.
What is your favorite drink? I love Ice Tea, especially with lemonade in it.
What genre are you most comfortable writing? I love fiction; I've always had a very vivid imagination.
If your book was made into a movie, who do you picture playing each part? My sister-in-law has already chosen Ben Affleck to play Jack Canon. Funny – I took the first draft to Disney. At first she didn't have any interest, but my mother-in-law was reading and commenting – enjoying the story. So, my sister-in-law, Terri, picks up the pages mom had finished and turned them quickly – long story short – she ended up loving Jack! She bought a kindle just to read the final version. I figured Katherine Heigl could play Sandy. Sandy is blonde and beautiful and fixes herself up to look like Marilyn Monroe for Jack. Daphne Cole is going to be tough to cast being the most beautiful woman perhaps on the planet.
Tell us about yourself. I'm originally from the Portland, Maine area, lived, and worked there for years before moving to Southwest Florida. My Dad and Mom were artists, my father painted and his mother wrote poetry and loved to garden. Most Saturdays our family loaded up the 1970 Chevy Impala to trek to a one-man show somewhere or other. I took a different track graduating with a business degree, owning and operating an Award Winning Franchise Fitness Center. Currently a professional manager I'm living in Florida with My beautiful wife and children, and following my passion. I have a deep faith. I believe God helps us in all things.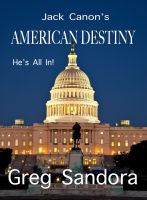 Buy Now @ Amazon & Smashwords
Genre – Political Thriller
Rating – PG
More details about the author & the book
Connect with Greg Sandora on Facebook & Twitter
Website http://www.gregsandora.com/